Razorback Stadium Information
Originally opened as the University Stadium in 1938 at an estimated cost of $492,000, the stadium was built to replace the 300-seat stadium of 1901 originally used by the Razorbacks. When the new stadium opened, its capacity was enough to seat 13,500 people. The name was changed after the stadium's first week of opening to the Bailey Stadium after the sititng Arkansas Governor Carl E. Bailey. Following his defeat in 1940, the name was changed to the Razorback Stadium, by which it is still largely known today, although the name was expanded to include Donald W. Reynolds in his honour in 2001.
The playing field is named the Frank Broyles Field after the former Arkansas head football coach and athletic director Frank Broyles. The stadium also features the "PigScreen," a massive  30 by 107 foot LED display that was installed in 2000.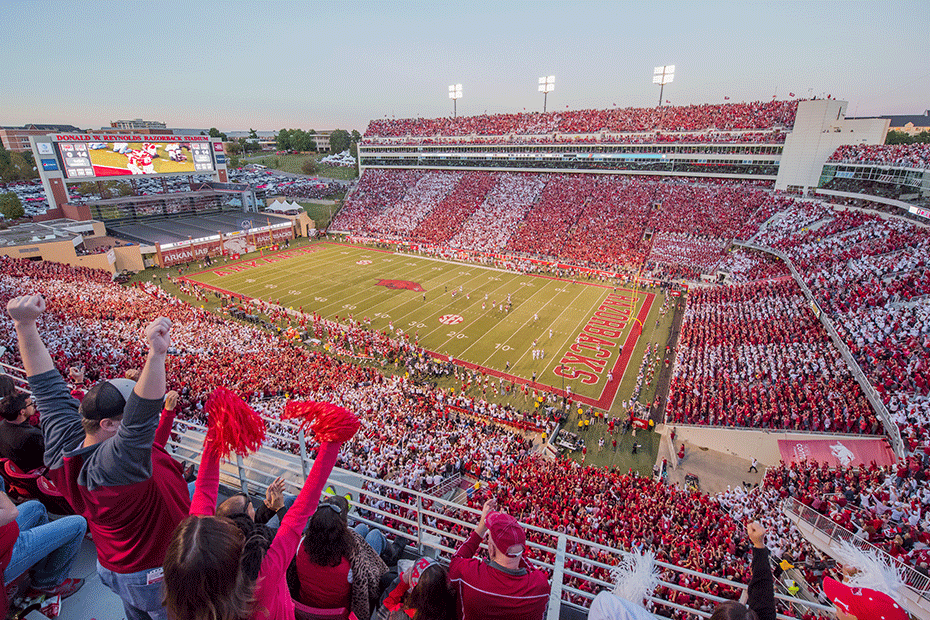 Please see the links below for further information on Donald W. Reynolds Razorback Stadium:
Do you require parking? View the Razorback Stadium parking information page.
Want information on our recommended ticket provider and ticket policies? View the Razorback Stadium tickets page.
Find out about accessible seating and view the Razorback Stadium seating chart page here.